Welcome to Bloom Awards Australia
The Women's Home Based-Business Awards
Make Someone's Day! Nominate Today - What past nominees have to say:
 "Oh My God! Really?!?!?!! This is amazing to even just be nominated – you just made my day! Super-duper excited!"  2019 Natasha Zervos
"I am just thrilled to have been nominated for the National Award for writing! 

You are really setting a standard for mum's in the workforce, Tashia .... and for an awards night that has been six years running. There are days when I doubt my capabilities because I feel like I have given up a strong career to "just be a mum". We can be strong mothers and have a strong impact on the business world at the exact same time. Thank you so much again!" Kasey Bains, finalist Writing Excellence Award 2019.
Now

in its 8th year, Bloom Awards Australia is a celebration of outstanding women in business
Bloom Awards Australia has celebrated thousands of amazing women in business Australia-wide and internationally. Women of outstanding ability and operating business across from diverse backgrounds and a wide range of industries and services.
The awards give women a platform to tell their inspiring stories and celebrate their achievements. The awards night is also an opportunity for attendees to network and listen to inspiring speakers while enjoying an evening of food, entertainment, prizes and more.
We have been celebrating amazing women in business, so far we have had 71 winners, 162 finalists and innumerable nominations.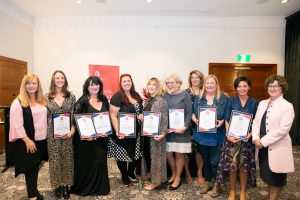 The Awards Ceremony will be held September 2022 and will feature 12 award category winners, four amazing speakers and networking opportunities galore on the night! Winners will be announced following the speakers and entertainment - a night of celebration and networking culminating in awarding amazing women in business for being the best in their field.
Because we are so determined to ensure that women in business are recognised for the incredible job they do, Bloom Awards Australia is independently judged. Our judges read and assess every entry and there is no social media voting, which ensures all winners are determined by merit.
To ensure judging is completely fair, each category has its own panel of judging who use a scoring system to determine the winners. The panel comprises of the Award sponsor (a woman in business who has experience within the field and manages the category) and two guest judges. Many of our past judges head up well known Oz-wide businesses like Source Bottle, Whole Kids, What's On 4, The Entrepreneurial Mother, Virtually Yours, Fi Mims Photography and Fourzero
Award categories, links to nominate, awards night details and winners from previous years:
Schedule of Dates
Nominations Open:- Date TBA
Nominations Close: - Date TBA
Finalists Announced: - Date TBA on Bloom Awards Australia fb page Bloom Networking Hub fb group
Awards Ceremony: - Winners will be announced & celebrated in Melbourne date TBA
Australia's #1 Community for Celebrating & Supporting
Women Running A Home Based-Business

Awards Ceremony 2022 Event Details
Event: The Awards Ceremony is a wonderful evening of celebration. A cocktail-style event that includes a complimentary drink on arrival (additional drinks can be purchased) and food included! There will be speakers, networking, entertainment, food, prizes and more.
Date: TBA
Time: TBA
Venue: TBA
Awards Tickets:
$75 earlybird price date TBA
$85 from TBA and at the door
TICKETS AVAILABLE HERE
(Please be aware there is a 50cent booking fee)
The Speakers & Networking
There will be guest speakers on the nigh. Speakers are scheduled to appear prior to the awards presentation ceremony.
Travelling to the awards from interstate and need help with finding affordable flights or accommodation? Contact Cath Graham of Travel Managers via email.
If you have any questions about the awards or you're having trouble submitting the nomination please email us directly to awards@bloomawardsaustralia.com.au
Awards Ceremony Guest Speaker Panel
The panel will feature of three guest speaker who's main focus is to add value to women's experience in business, through direct help with sales, marketing, social media, mindset to helping women in business succeed.
Meet The Awards Sponsors for 2022 - coming soon