Welcome to Bloom Awards Australia
Celebrating Women In Business
Make Someones Day Nominate Today - What past nominees have to say:
       "Oh My God! Really?!?!?!! This is amazing to even just be nominated – you just made my day! Super dooper excited!"  Natasha Zervos
"I am just thrilled to have been nominated for the National Award for writing! You are really setting a standard for mum's in the workforce, Tashia .... and an awards night that has been 6 years running (!). There are days when I doubt my capabilities because I feel like I have given up a strong career to "just be a mum". We can be strong mothers and have a strong impact on the business world at the exact same time. Thank you so much again!" Kasey Bains, finalist Writing Excellence Award 2019
Now in its 7th year, Bloom Awards Australia is a celebration of outstanding women in business
It has recognised and celebrated 1000's of women in business Australia wide and internationally. Women with outstanding abilities from diverse backgrounds and a wide range of industries and services.
The awards give women a planform to tell their inspiring stories and celebrating their achievements. The Awards night is also an opportunity for attendees to network, listen to inspiring speakers while enjoying a night of food, entertainment, prizes and more.
We have been celebrating amazing women in business, that's 73 winners, 137 finalists and innumerable nominations.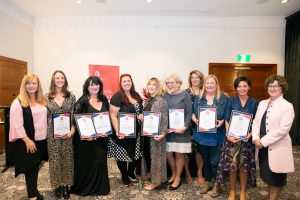 The Awards Ceremony will be held in June 2020, and will feature 16 award category winners, 4 amazing speakers and networking galore on the day! The announcement of the winners will follow the speakers and entertainment -  it is a night of celebration and networking - culminating in awarding 16 amazing women in business as the best in their field.
We are so determined to ensure that women in business are recognised for the incredible job they do, that the Bloom Awards Australia are entirely judged. Our judges read and mark every entry and there is no social media voting; ensuring all winners are determined based on merit.
To ensure judging is completely fair, every category has it's own judging panel who use a scoring system to determine the winners. The panel is made up of the Award sponsor (a woman in business who has experience within the field and is managing the category) and two guest judges. Many of these judges of the years head up Oz-wide known businesses like Source Bottle, Whole Kids, What's On 4, The Entrepreneurial Mother, Virtually Yours, Fi Mims Photography and Fourzero.
Read below for Awards categories, link to nominate, info and bookings for Awards Night and winners from previous years:
The 2020 categories are currently being updated they will be finalised by Monday 24, Feb:
Schedule Of Dates
Nominations Open -Monday 2, March at 7am
Nominations Close -Thursday 30, April at 11.59pm
Finalists Announced - Wednesday 20, May on Bloom Networking/Bloom Awards Australia fb page Bloom Business Hub fb group at 12pm
Awards Ceremony - The award winners will be announced and celebrated -  In Melbourne Saturday 20, June 6pm to 9.00pm (Date to be TBC)
Australia's #1 Community For Celebrating & Supporting Women In Business

Awards Ceremony 2020 - Event Details
Event: The Awards night is a wonderful night of celebration with Award Winner Announcements, held cocktail style, semiformal dress code, with delicious cocktails on arrival and food included! There will be speakers, networking, entertainment, food, prize and more
Date: Saturday 20, June 2020 date to be TBC
Time: 6.00pm to 9.00pm networking, speakers, entertainment, food, celebration, prize and more
Venue: TBA
Awards Tickets:
$75 Earlybird price (book before June 6, 11.59pm)
$85 Bookings from June 7 and at the door
TICKETS AVAILABLE HERE
(please be aware there is a 50cent booking fee)
The Speakers & Networking
There will be four gust speaker on the night, speakers are scheduled prior to the formal part of the awards ceremony. The main aim of the speakers will be to present and educational presentation, answer your questions, provide industry updates - not to provide a sales pitch! So feel free to approach them for a chat.
Networking opportunities will be set up for attendees to connect on the night.
Travelling from interstate: Need help with booking affordable flights or accommodation? Then contact Cath Graham of Travel Managers via emailMeet the Bloom Awards Australia Finalists & Winners
If you have any questions about the awards or you're having trouble submitting the form please email us directly to events@bloomneetworking.com.au
Awards Ceremony Guest Speaking Panel
There will be a panel of four guest speaker on the night, who's main focus is to add value to women in business - be it direct help like sales, marketing, law or helping women in business to do their job as well as possible. The panel members are
Tashia Searle - Owner Bloom Awards Australia and Bloom Networking. Other panel members TBA by Monday 24, February
PRIZES 2020
The prizes for 2020 award winners will be announced by Monday 24, February
Prizes for the winners valued over $2,500 include:
Inspirational Celtic Tree of life silver necklace from Tashia Searle - $100
fb live interview to over 10K audience with Tashia Searle of Bloom Awards Australia
Additional Business package valued at over $2,000 including:

Breakthrough Your Money Drama's e-Course from Anne-Marie Cross - $106.70
2-hour Wholehearted Marketing Strategy Session with Cath Connell, value - $395
Voucher towards publishing your story from Samantha Jansen, Samantha Jansen Publishing - $500
Meet The Awards Sponsors for 2020 - coming soon
Read below for Awards categories, sponsors & judges:
The 2020 categories are currently being updated they will be finalised by Monday 24, February:
Best Life & Business Clarity sponsored by Kerryn Powell of Your Time Matters
Guest judges: Leigh Powell YTM & Jen Watson Helloworld
Best Juggler Award sponsored by Anita Kilkenny of The Holistic VA
Guest judges: Jacqueline Thomas Thrive life & business and
Most Influential Brand sponsored by Anne-Marie Cross of www.AnnemarieCross.com
Guest judges:
Outstanding Service-Based Business sponsored by Louise Thompson of Louise Thomas 
Guest judges:
Innovation Excellence sponsored by Cath Connell of Wholehearted Marketing
Guest judges:             and Founder and Director of Whole Kids
Social Media Success Story sponsored by Samantha Jansen of Samantha Jansen Publishing
Guest judges:
Client Delight Award sponsored by
Guest judges: Fiona Stock and
Outstanding Web Presence sponsored by Jerry Penny of Nurture Queen Videos
Guest judges:
Rising Star Award by Denise Hall
Guest judges: Kerry Nelson and
Writing Excellence Award sponsored by Karen Crombie of Exact Editing
Guest judges:
Community-Minded Business Woman sponsored by Katrina Hart of Hart Health & Wealth
Guest judges:
Direct Marketing/Party Plan Excellence Award sponsored by
Guest judges:
Outstanding Home Based Business sponsored by Jo Johnson of The Content Coach
Guest judges:
Employee Excellence Award sponsored by
Guest judges:
Sustainability Award sponsored by
Guest judges:
Health/Wellness Business Award sponsored by Georgie Mahmound of Transformational Health Hub  
Guest judges: