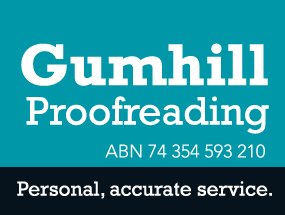 Hello, I'm Dianne Wadsworth, owner and operator of Gumhill Proofreading. Following a long and varied career in customer service, administration and working for not-for-profit organisations, I obtained a qualification in editing and proofreading, and Gumhill Proofreading was created in 2013.
Gumhill Proofreading provides proofreading services and solutions that include, but are not limited to:
• book drafts • assisting writers and small to medium businesses in final draft copy
• assisting with website copy • newsletters • brochures and marketing material copy
• product guides • student materials • letter writing
Providing proofreading services in: Frankston, Langwarrin, Mornington Peninsula, Victoria and Australia-wide.
Business Name: Gumhill Proofreading
Contact: Dianne Wadsworth
Phone: 0439 003 709
Email: dianne@gumhillproofreading.com.au
Website: http://gumhillproofreading.com.au/
Facebook: https://www.facebook.com/Gumhill-Proofreading