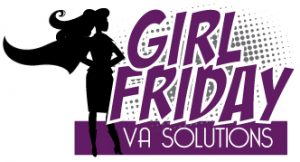 So many businesses are now discovering exactly what a Virtual Assistant (VA) can do for their business. Outsourcing is now a commonly used word in business circles, and all the top entrepreneurs promote the benefits of outsourcing aspects of your business.
In today's world, a VA can do multiple tasks. All of those time consuming aspects of your business can be outsourced to a VA. And with the VA industry booming, so many businesses are finding the perfect VA to match their business.
So what makes Girl Friday VA Solutions stand out? Take a moment to think about every superhero you know (yes, this is a bit random!). What does every superhero have? An awesome sidekick!
In the business world, YOU are the superhero, and Girl Friday VA Solutions are your business sidekick. Together, we'll fight the crime of business back end administration before it becomes your kryptonite.
Girl Friday VA Solutions can assist with general administration tasks such as MS OFFICE documents, email marketing, social media start up and content, database management, event support and setting up online business listings.
Business Name: Girl Friday VA Solutions
Contact: Jo Davey
Business Phone: (041) 785-8583
Business Email: jo@girlfridayvasolutions.com.au
Website: http://www.girlfridayvasolutions.com.au/
Facebook: https://www.facebook.com/girlfridayvajo
Instagram: http://www.instagram.com/jamswithjo